About Disaster Reconstruction Services
Property Disaster is Not the Time for a Typical Construction or Remodeler Guy!
You Require a Top Contractor That Understands the Full Scope of the Situation
Don't risk hiring an inexperienced repair company with no clue how much damage happens when spreading environmental contaminants such as bacteria, mold, soot, and hazardous chemicals throughout a structure.
Disaster Reconstruction Services follows stringent protocols and procedures designed to contain, remove, and prevent the spread of contaminates during controlled demolition and construction. Your property and the health of its' occupants are always protected. We safely return residential and commercial properties to pre-loss (or better) condition by working with insurance adjustors, industrial hygienists, and building inspectors. Sometimes, when property damage happens, it's the right time to make upgrades and enhancements that will add beauty, functionality, and value. We'll help you with that too; after all, we are builders!
Owner/President, Disaster Reconstruction Services
After his military service stationed at Fort Carson in the early 80s, Tom Miller began his career in construction with a company specializing in remodeling and building custom homes. Tom fine-tuned his construction talents for a decade before relocating to Salt Lake City to start his own construction business. For five years, Tom continued with residential remodeling, building spec homes, and adding commercial construction to his skillset.
As Tom started his young family, he soon realized he wanted to raise his children in a smaller community. He returned to Colorado to Durango and continued to offer construction services for another 15 years. Tom is an outdoor enthusiast; the mountains are his playground; it's only natural that he has made Colorado his home!
While running his construction business in Durango, Tom worked on projects with SERVPRO, a property damage cleanup company. He found he had a passion for the restoration industry. In 2014 he opened his franchise operation as SERVPRO of Montrose/Telluride, located in Montrose. Today, as the owner of Disaster Reconstruction Services, Tom combines his diverse skills to provide remodeling, especially reconstruction services for residential and commercial properties that have suffered all kinds of environmental structural damage.
Construction Manager, Disaster Reconstruction Services
Jehromy is a master carpenter and a seasoned construction manager approaching three decades of experience working in the construction industry. He has done it all, framing, highly detailed finish work, and several years of construction and project management in the fire and water damage restoration/reconstruction industry. Jehromy brings valuable knowledge and a special real-world awareness of customer expectations gained through many years of hands-on craftsmanship, management of people and projects, and several years of business ownership.
Jehromy's extensive work experience explains why he says, "The best way to fully understand a project is to be able to see it from the perspectives of all involved: the client, business owner, subcontractor, employee, building inspector, insurance adjuster, supplier, etc." Decades of both hands-on and supervisory experience have given him a deep insight into each of those perspectives. He loves the creativity of the building process. As the Construction Manager at Disaster Reconstruction Services, he derives satisfaction in serving clients by executing determination, organization, and communication, so projects of various sizes and types are brought to a satisfactory completion on time and within budget.
Estimator, Disaster Reconstruction Services
In 1995, Joe took a semester off from college and worked in construction. He realized he had found his career and never looked back. Joe started a framing company within three years and worked on super mansions and show homes in gated communities throughout the Denver area.
Following the downturn in the US economy and the housing market crash in 2007, Joe moved to Colorado to work with a construction company that served the insurance industry. Joe started as a carpenter, then worked all the trades, and quickly became a superintendent, where he learned the ins and outs of the insurance restoration and property damage repair industry.
At Disaster Reconstruction Services, Joe practices his passion, turning traumatic events into opportunities to make people happy by restoring and improving their property. Joe is IICRC-Certified in Water Damage Restoration. Having years of hands-on construction experience and in-depth knowledge of restoration reconstruction from the policyholder, insurance company, and the direct claims perspective, Joe knows how to help his customers through a challenging event. Joe has this to say, "In most construction, you're working for people. In this business, you work with people to provide silver linings, and that's way more rewarding to me!".
Production Manager, Disaster Reconstruction Services
Disaster Reconstruction Services is excited to have Brad Knauer as our Production Manager. He brings over thirty years of experience to our company. Originally from back East, he was an owner/operator who garnered extensive knowledge and hands-on performance in his chosen field. 
Brad has earned many certifications, as depicted in the below list, from the Institute of Inspection, Cleaning and Restoration Certification.  
IICRC Certifications
WRT – Water Damage Restoration
ASD – Applied Structural Dryings 
CCT – Carpet Cleaning Technician
FSRT – Fire & Smoke Restoration
OCT – Odor Control Technician
UFC – Upholstery & Fabric Cleaning
JTC – Journeyman Textile Cleaner
JSR – Journeyman Fire & Smoke Restorer
CRT – Color Repair Technician
His construction background and talents offer our customers build-backs to pre-loss conditions and remodeling to enhance a commercial or residential property's value. 
Brad states that the Colorado Countryside is his playground when not rebuilding or remodeling a DRS project.
Project Manager at Disaster Reconstruction Services
Jake, our Project Manager at DRS, hails from Olathe, CO. Since he was raised in a construction family, it runs in his blood as he has dived into new construction and remodeling projects since 2018. His specialty and passion are Framing/Trim Work/Flooring, though his well-rounded knowledge and experience allow him to lead by example.
Jake enjoys hunting and fishing when he is not helping our Disaster Reconstruction Services customers.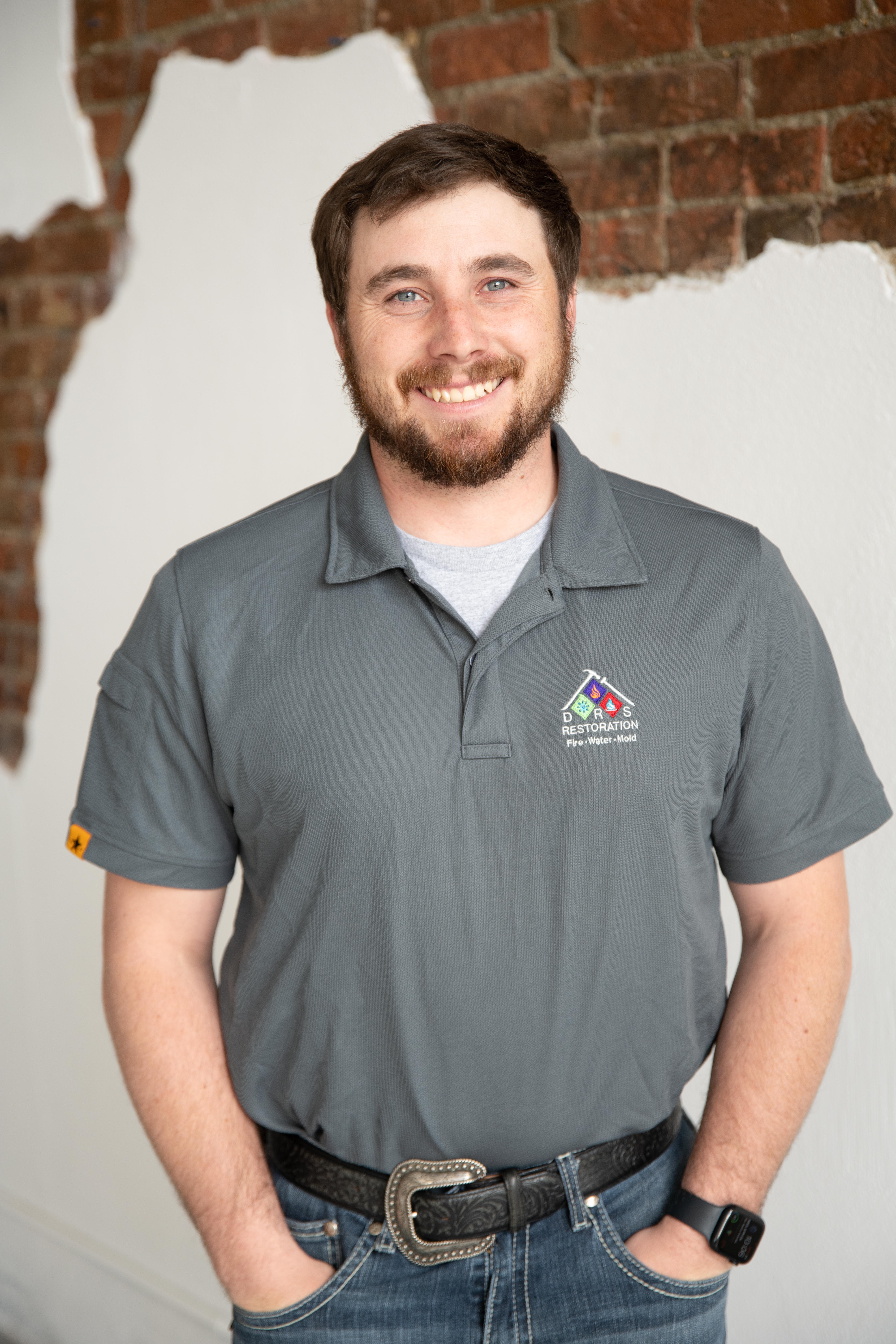 Project Manager at Disaster Reconstruction Services
With over 10 years of construction experience, Russell is an excellent Project Manager for the DRS team. He and his supportive wife enjoy fishing, camping, and hunting in Colorado's beautiful mountains when he's not helping our DRS Customers. Russell's background in restoration combined with his college education in business, administrative support, and graphic design make him the perfect manager for making sure your project goes smoothly. No project is too big or too complex to make brand new again and Russell will keep you up to date every step of the way.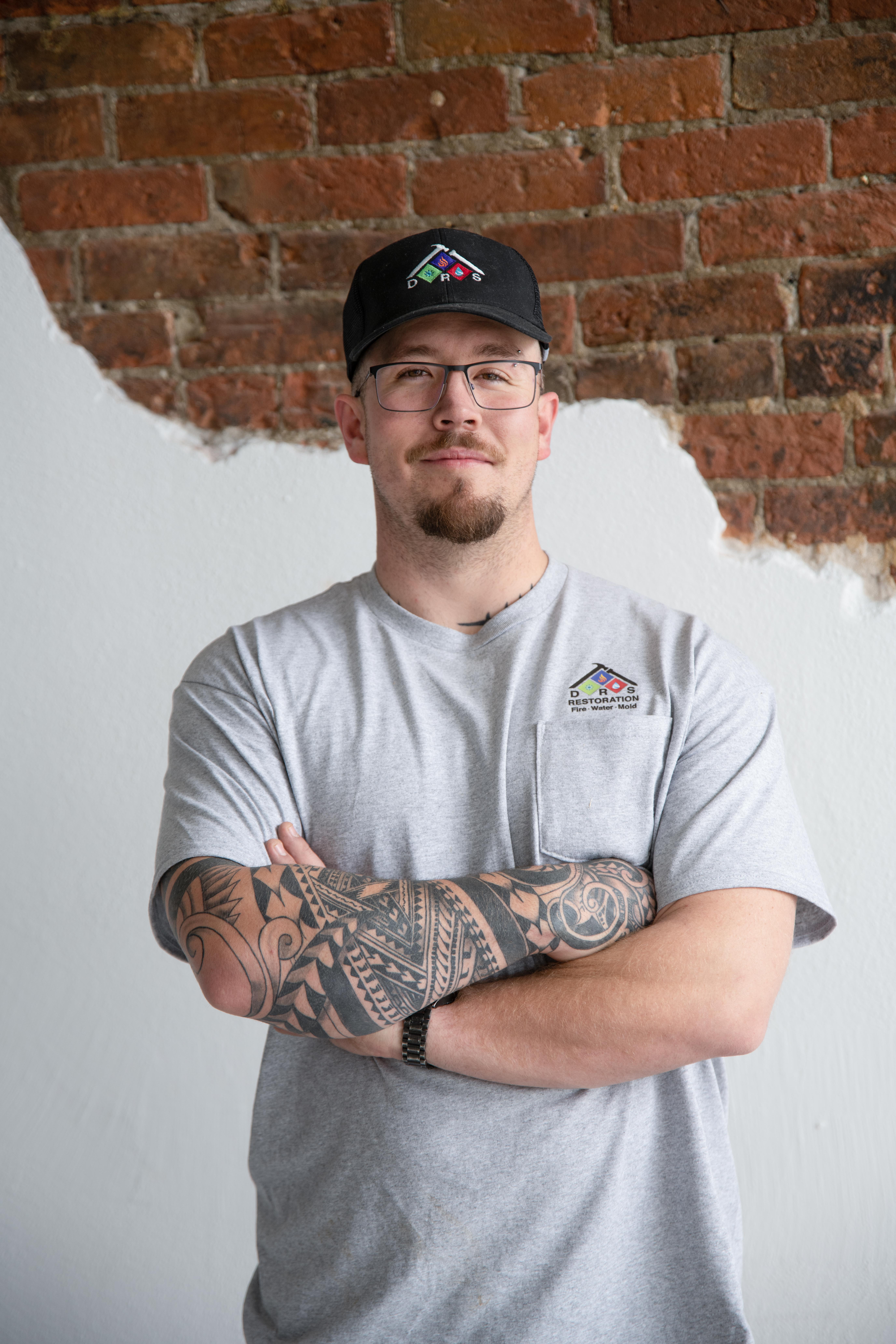 Mid Level Labor at Disaster Reconstruction Services
Logen is a reconstruction professional who specializes in mitigation and plumbing. Growing up on the white, sandy beaches of Hawaii, Logen started out as a chef before moving to Colorado in 2015. Soon after, he began his reconstruction career. Logan is inspired daily by his loving wife and daughter to work hard and spread his positive attitude to the Disaster Reconstruction Services team.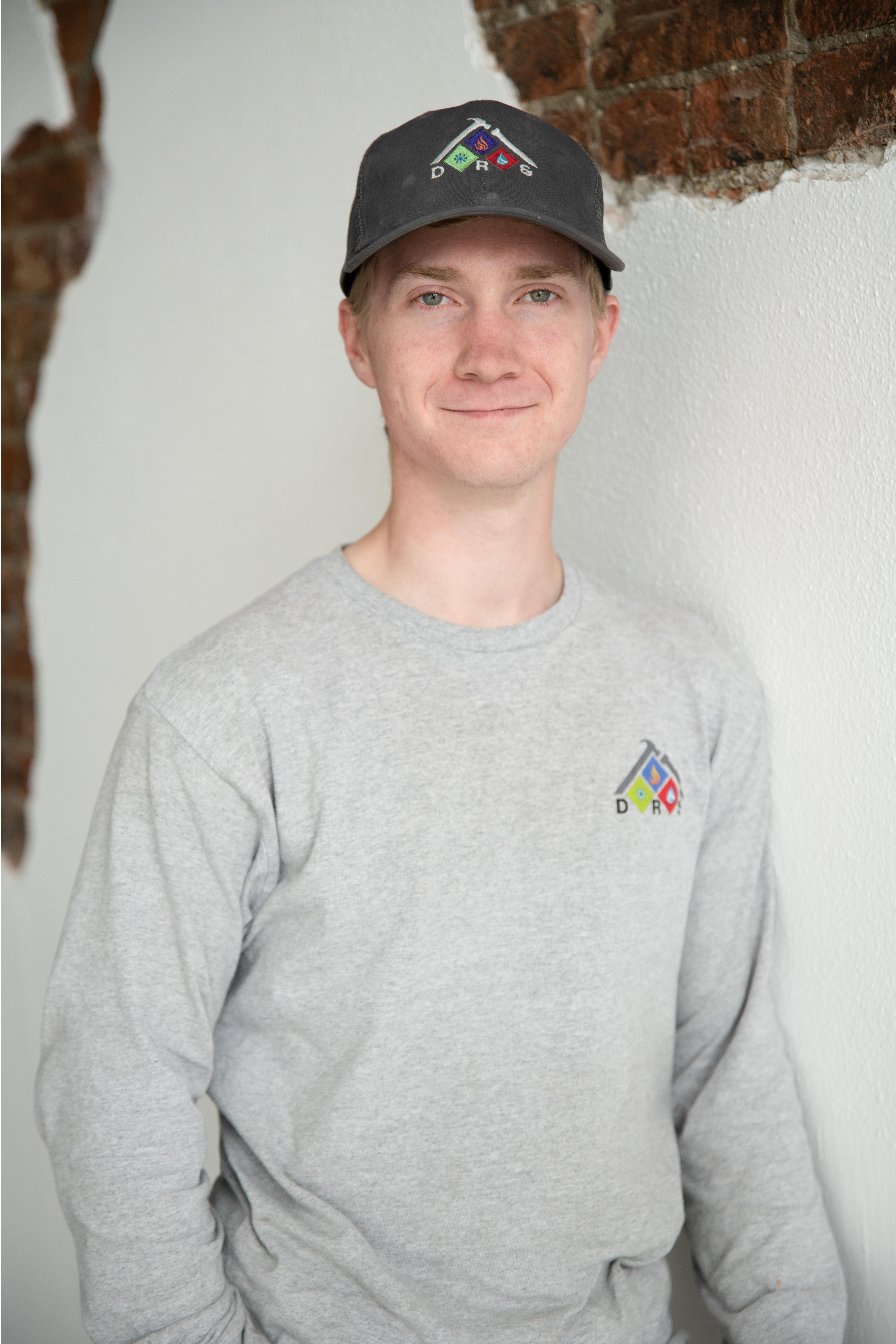 Laborer Manager at Disaster Reconstruction Services
Originally from Indiana, he moved to Colorado in 2019 where he enjoys skiing, mountain biking, and hiking. Bradley grew up working summers with his dad where he gained extensive knowledge about carpet cleaning and remediation. His hard work and ability to quickly learn new skills make him a valuable team member on any project.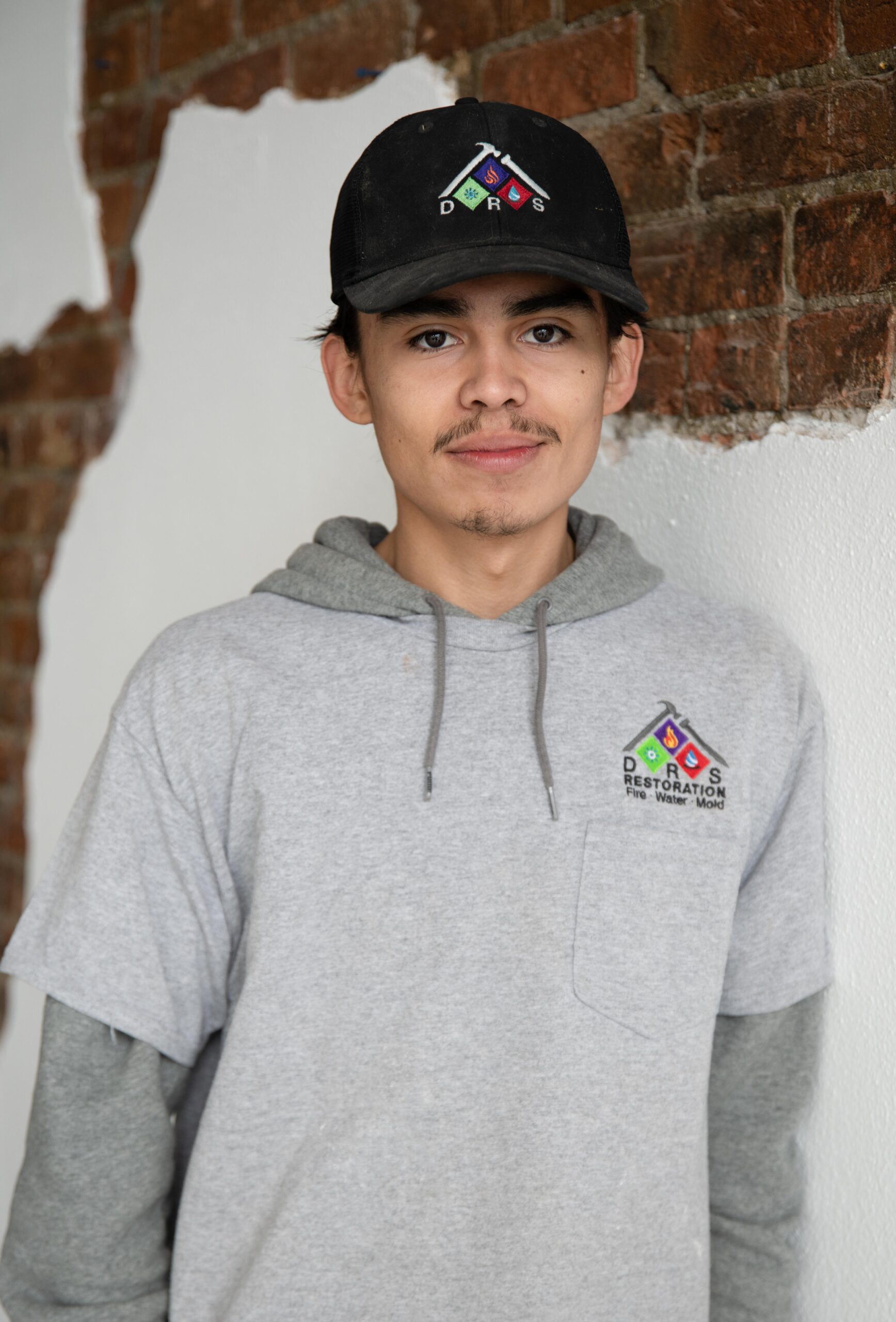 Laborer at Disaster Reconstruction Services
Eddie is a Colorado native who enjoys hiking, basketball, and skateboarding. His ambition to learn as many trade skills as possible brought him to the DRS team. His specialty is masonry and his team describes him as a hard working teammate who is always willing to tackle any challenge that comes his way.
What Our Past Clients Are Saying
"After an interior fire that caused significant damage, it was a bright spot to work with Tom Miller to clean up the building. Their staff was very attentive and communicated well throughout the project. Though we expected the work to take four to five weeks, we were very satisfied that the work was completed in less than two weeks. We especially liked the virtual tours Tom created that showed before and after images of the building. It was a pleasure to work with Tom and we definitely recommend them!
"I want to thank you for your excellent service performed cleaning up a real mess during our recent leak that we experienced here at First Baptist Church in Cedaredge.  Your personnel were polite and professional and worked many late hours to get our facilities back in use. When we incurred a second unrelated leak a few weeks later your manager provided us with equipment for a small cleanup job that saved us some expense when we really needed  a little help. Thank you!"
We Help You Get Back to Your Life and Business
Stop letting environmental damages hold your life and business back, reach out now